Cheers to another very me (and I'm sure also very you since you're here on the blog) Valentine's Day look. Of course, it's mostly black, ha! What can I say, I always revert back to what's easy for me and you should too. This look is definitely more toned down than last week's Valentine's Day look but I think the wine cami adds some romance!
I've been dying for a CamiNYC camisole forever now. Something that's been on my to-do list for quite some time now is to shop in store more. Especially in small boutiques in my area (Westchester County). So a few weekends ago when I went out searching for Valentine's Day looks, I ended up picking up this cami at I Am More in Scarsdale Village. AND it was 25% off, woo!
Shop my look: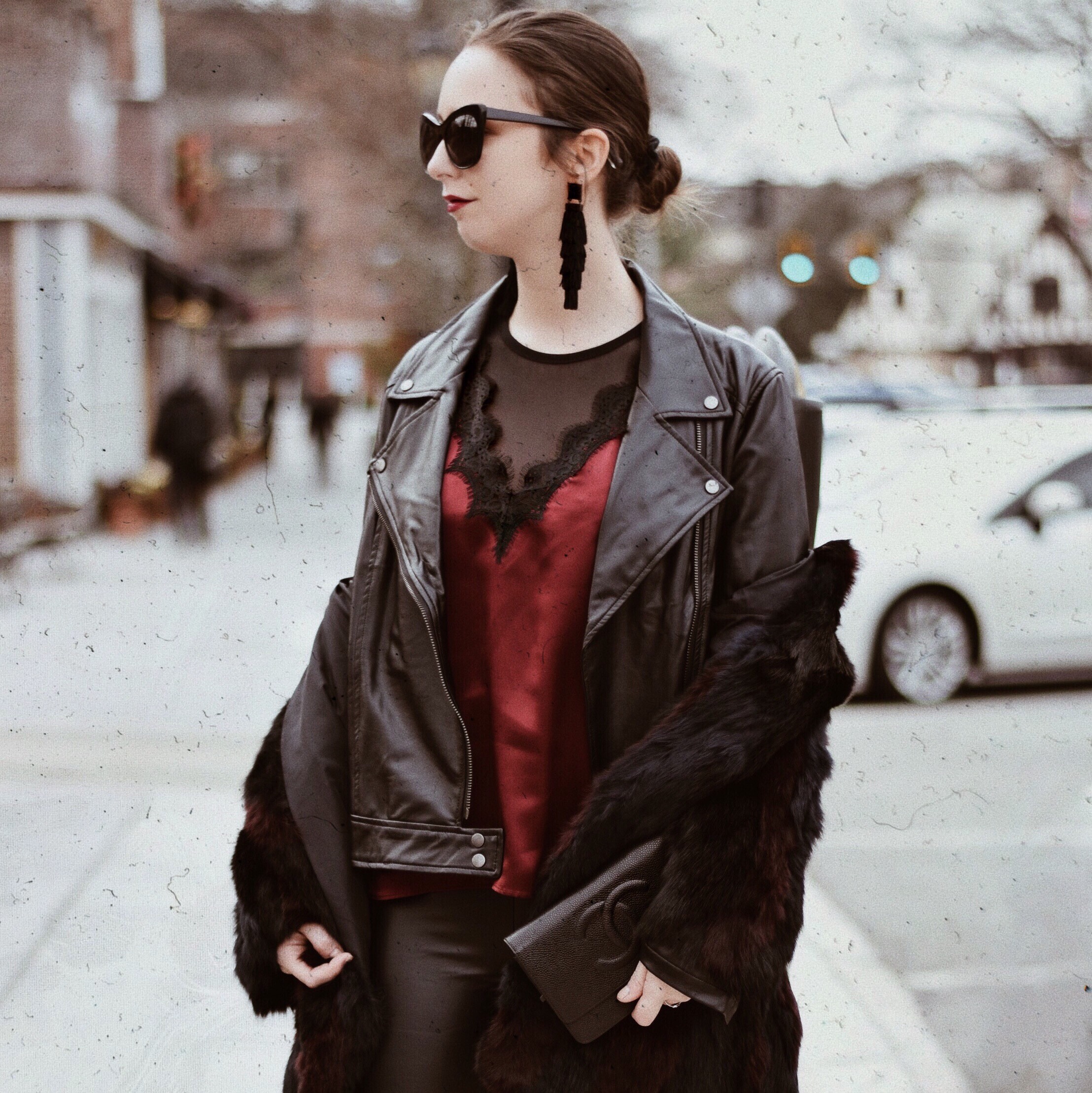 Now for what I'm sure a lot of you have been waiting for, my favorite love quotes! Use them for your Instagram captions (you're welcome) or inside of a blank card for an extra special touch.
My favorite love quotes…
"I find I miss you in the tiniest moments, between the seconds." Tyler Knott Gregson
–
"To me, you'll always be tired eyes and tired sighs, tousled hair, tangled sheets and lazy Sunday afternoons. The slow press of coffee, the first sip of morning air, the void between my fingers, time between seconds, the chill of my lungs and the ache of my bones. You'll always be my reach, my want, and my need. You'll always be everything to me." Tyler Kent White
–
"I hope that someday, somebody wants to hold you for twenty minutes straight, and that's all they do. They don't pull away. They don't look at your face. They don't try to kiss you. All they do is wrap you up in their arms, without an ounce of selfishness in it." Waitress (movie, 2007)
–
"There is my heart, and then there is you, and I'm not sure there is a difference." A.R. Asher
–
"I still haven't figured out how to sit across from you, and not be madly in love with everything you do." William C. Hannan
–
"And I'd choose you; in a hundred lifetimes, in a hundred worlds, in any version of reality, I'd find you and I'd choose you." Kiersten White, The Chaos of Stars
–
"I swear I couldn't love you more than I do right now, and yet I know I will tomorrow."  Leo Christopher
–
"When I say I love you more, I don't mean I love you more than you love me. I mean I love you more than the bad days ahead of us. I love you more than any fight we will ever have. I love you more than the distance between us. I love you more than any obstacle that could ever try and come between us. I love you the most." Author Unknown
–
"You are a dangerous collection of all my favorite things. An old soul, a heart of gold and hands that make my body sing." Nikita Gill
–