Good morning and Happy Friday! Today I'm going to share how I pair colored denim. I bought an awesome pair of khaki green denim this past fall. The thing I love about denim is that you can always dress it up or down. Today, I paired these jeans with neutrals.
Blazer is from H&M, shirt is Vintage Havana, denim is by Koral.
I spy my kitten Princess! She literally wanted to be in every picture!
The lace top and the blazer really dressed it up for me. The caged heels, a trend this spring/summer, make it the perfect outfit for a night out. I chose not to wear anything under the lace shirt. If I was wearing the shirt alone I probably would have worn a tank or bandeau under it. Since I had on the blazer, I didn't want the shirt to get too muted by having a tank, the same color, under it.
Close up! Shoes by Michael Kors, they're actually on sale right now at Lord & Taylor! (You're Welcome) Wish I would have known that when I bought them!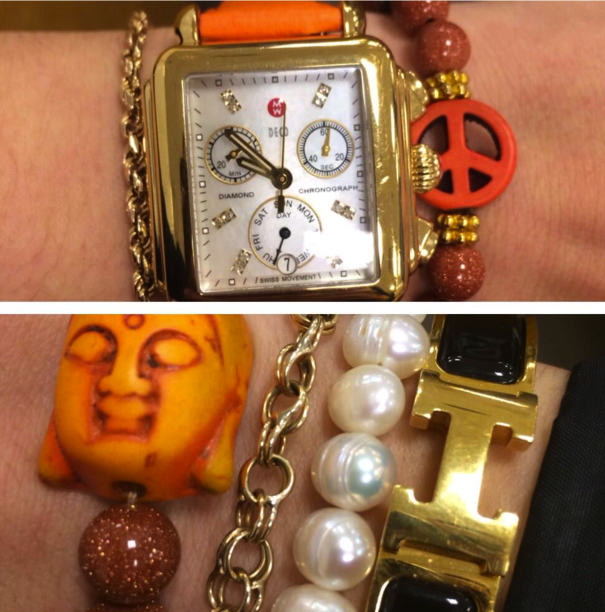 I am a jewelry girl! I love layering bracelets and I ALWAYS have to wear a watch! My watch is the Michele Deco 18mm in gold, with a tangerine band. My beaded buddha bracelet, peace sign beaded bracelet and pearl bracelet are all made by me! Check out my etsy shop here: SimoneJ jewelry. My gold rope bracelet and gold charm bracelet are vintage.
Close up! Necklace by House of Harlow. Earrings by Kate Spade.
Accessories are everything to me. You could have the perfect outfit, but the wrong jewelry can destroy it! I loved paring my khaki green denim with neutrals. If you're unsure about what colors to wear with your colored denim, stay on the same side of the color wheel. Warm colors will usually look good together, as will cool colors. It's gets tricky you get into mixing and matching opposite colors.
I hope this gives you some Friday after work outfit inspiration! Have a great weekend everyone!
XO,
Simone