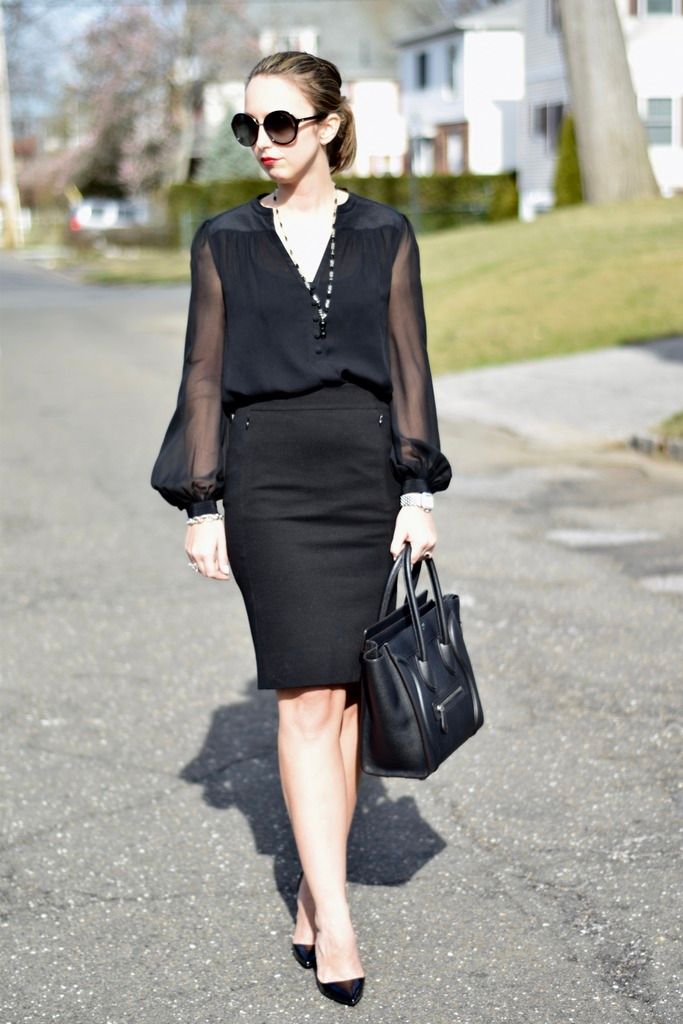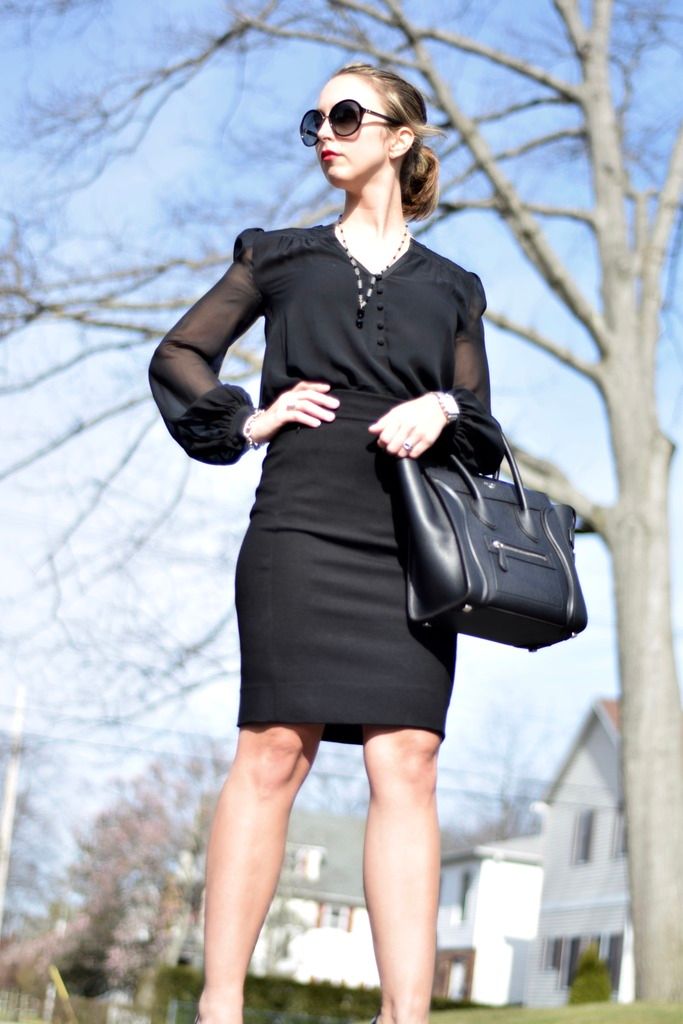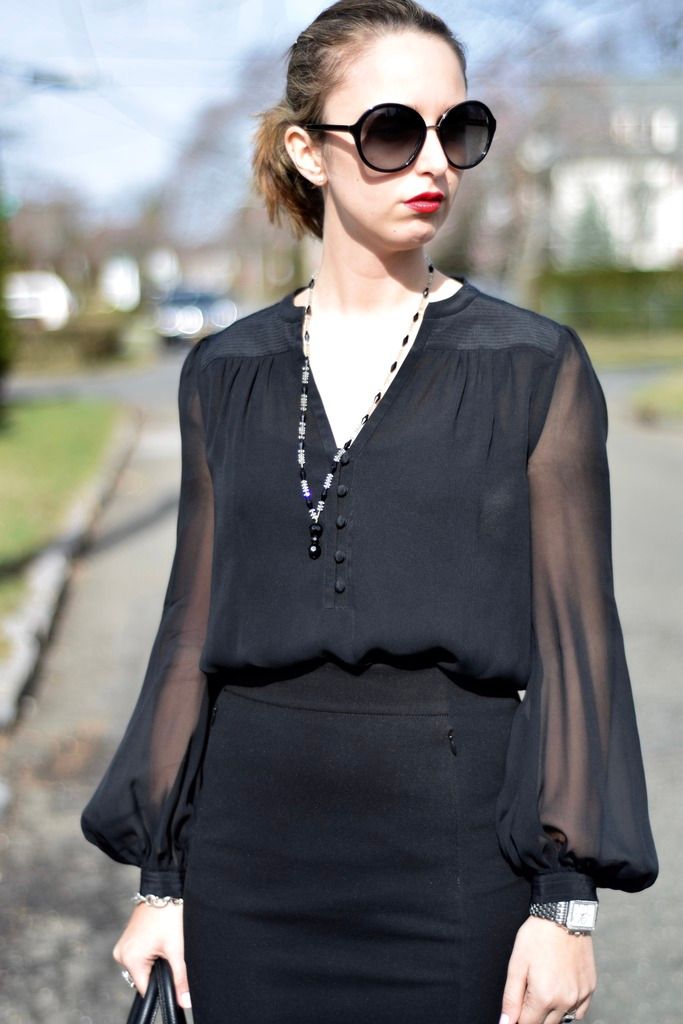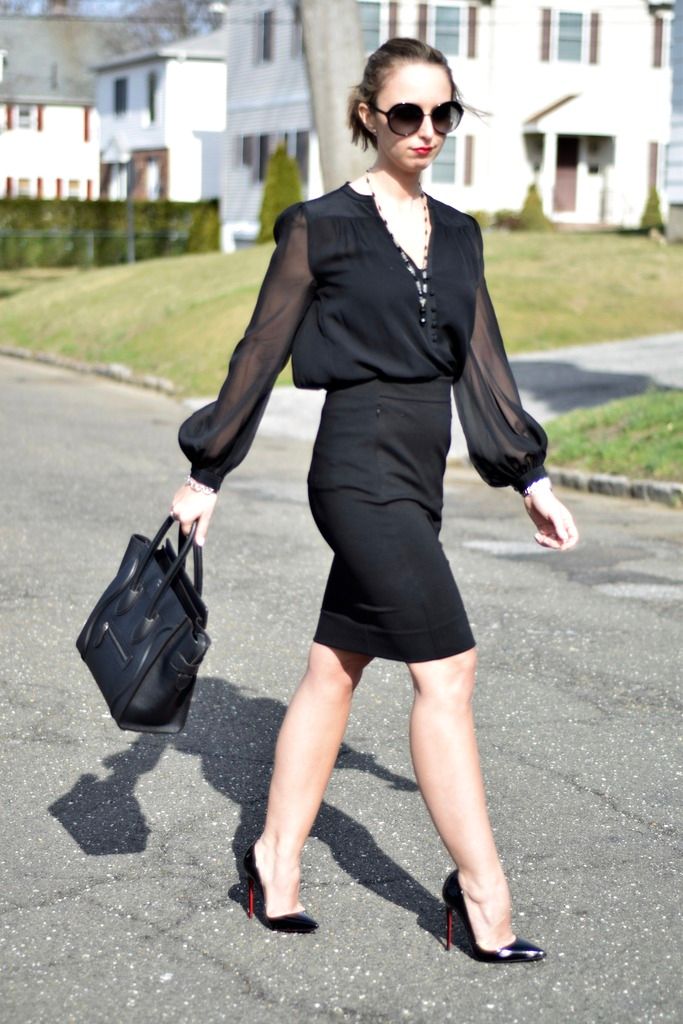 BLOUSE: DVF, STEAL HERE | SKIRT: DVF, STEAL HERE | SHOES: CHRISTIAN LOUBOUTIN | BAG: CELINE | SUNGLASSES: KATE SPADE
If you're a woman and you live in New York, I'd say the probably of you having these three items in your closet right now are pretty high…
1. Perfectly fitted black pencil skirt
2. Eye catching black blouse
3. Investment black pumps
It's not a secret in New York, we love black. With a few bitter cold months with unfavorable weather, who doesn't enjoy some go to black clothes? I've gone through a number of black pencil skirt's and I must say my newest DVF one (found here) has been a favorite recently. It's made out of a very comfortable material that has a good amount of stretch to it. I love that it's not too fitted either. Have you ever purchased a pencil skirt that you thought you would be able to wear to work and then it comes in the mail and it's clearly a skirt you wear to a club?! LOL well that's my life! It's also important to have a good pair of investment black pumps, the ones you take out for special meetings or occasions. And last but not least, a striking black blouse. Something with beautiful detailing or a mixture of textures will always do the trick!
What I love most about black clothing is that you can mix and match them with everything. I never feel bad splurging on a black item! Maybe that's why my closet is becoming a black hole…
I also have some very exciting news that I want to share with you! I decided to wear a full DVF look for this post because, I'm going to be working there!!! I still have a week and a half before I start but it's just so surreal. I can't say exactly what I'm doing, but trust, it's pretty cool!
SHOP MY LOOK:
XO,
Simone
Follow Me!
Instagram | Twitter | Snapchat