Hi everyone! Wow, it doesn't seem like Wednesday at all! Today I'm going to talk about statement necklaces, specifically, necklaces with color. I find myself always picking up inexpensive fun colorful statement necklaces and then coming home and trying to match them. While I shop, I always try to have something in mind that will match the necklace before I purchase it. Here's my first look: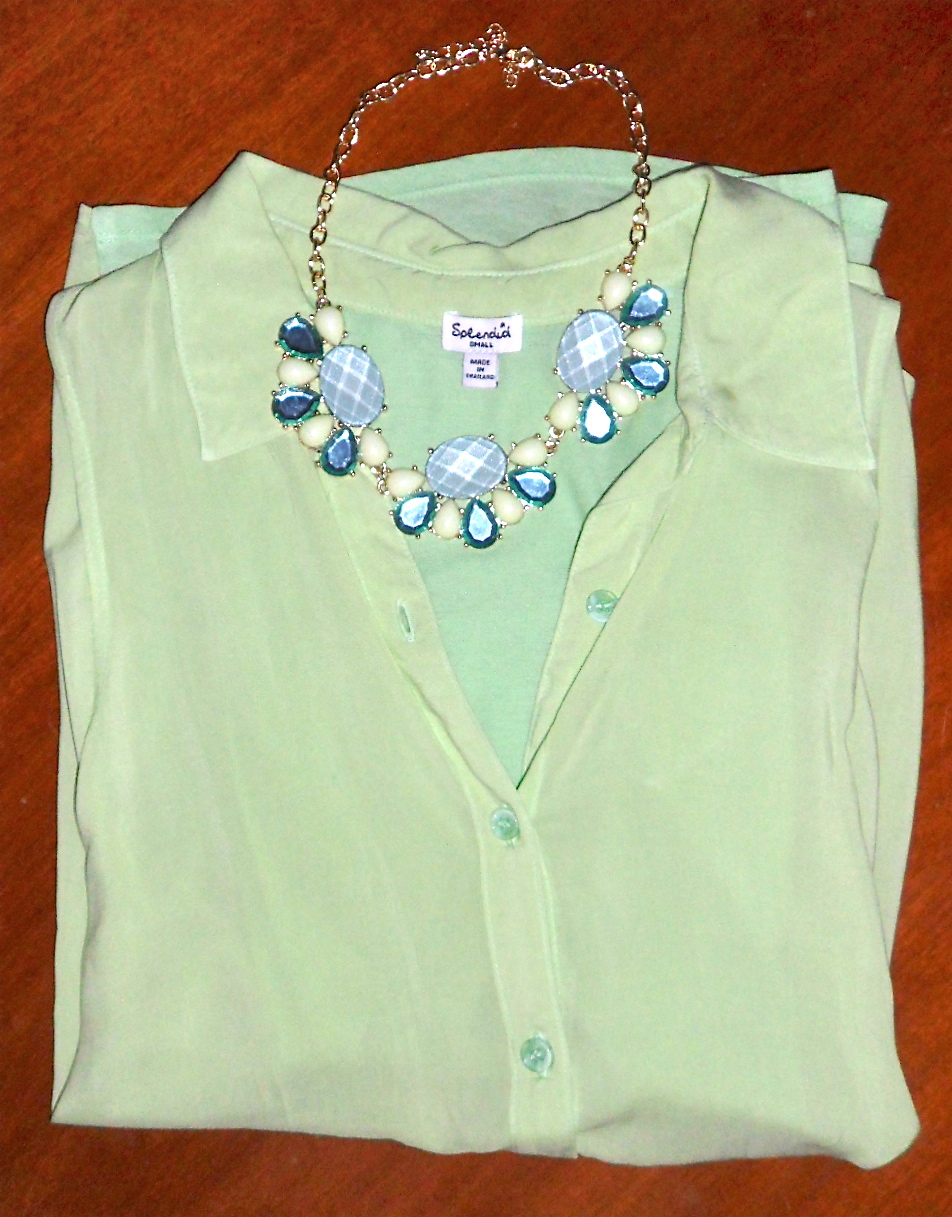 Shirt: Splendid, similar | Necklace: Charming Charlie's, similar, similar
I saw this necklace and it instantly reminded me about this shirt! I couldn't find an exact match online, but it is in stores now. You can always wear statement necklaces as your pop of color, but I think they look especially nice when you can match them with something else! I would pair this with denim shorts, skinny jeans or even a white denim skirt!
Shirt: Splendid | Coral Denim: Gap, similar | Printed Pants: Forever 21 | Necklace: Charming Charlie's, Similar
I LOVE coral. It's one of my favorite colors to have in my wardrobe. I like this necklace to stand alone, so in both looks I paired it with a white shirt. I've worn this necklace a number of times with my coral denim. I also think it's going to look amazing with these printed pants I just purchased!
Shirt: Loft, similar, similar | Necklace: Charming Charlie's, similar, similar
This is definitely a more neutral look. This necklace is always going to look great with any blue denim. Instead of just pairing it with a white shirt, I feel like the gray makes it pop! The shirt is really more of a blue-gray than it appears in the picture, and I find that the necklace looks great against this color.
TIP: You don't have to spend a lot of money on a statement necklace! Places like Charming Charlie's (my favorite), Forever 21 or even Target have great fashion jewelry!
TIP: When pairing a necklace with pants or a skirt, don't compare them side by side or on top of each other! Hold them apart (arms length or put on the necklace and hold up the pants) and see if you like how they look.
TIP: Think while you shop! It's easier to match a necklace to a shirt you already have than to buy a necklace and find a shirt to match.
I hope you enjoyed this post, thank you for reading! As always, I love feedback and questions, email me: SimplybySimone@gmail.com!
XO,
Simone