Hello everyone and welcome to my ring party! Today I'm going to talk about statement rings. I think when most people think of statement rings they think of very, very large rings. Personally, for a ring to make a statement, I don't think it has to be huge, but it does need to catch the eye and be a great design. I'm going to share with you today some pictures of my personal favorites! Here we go:
Costume: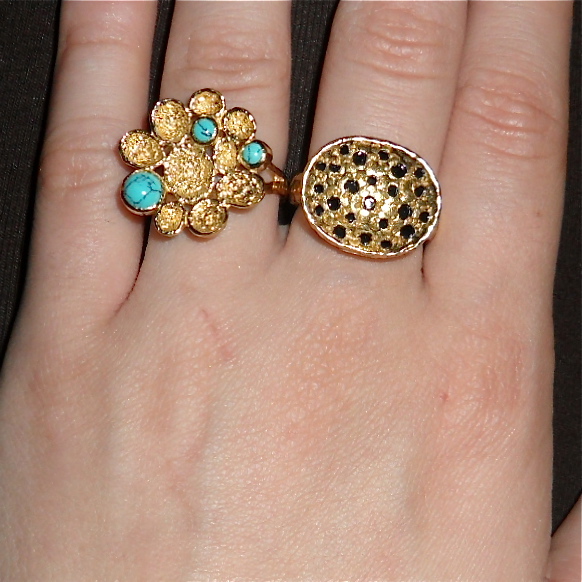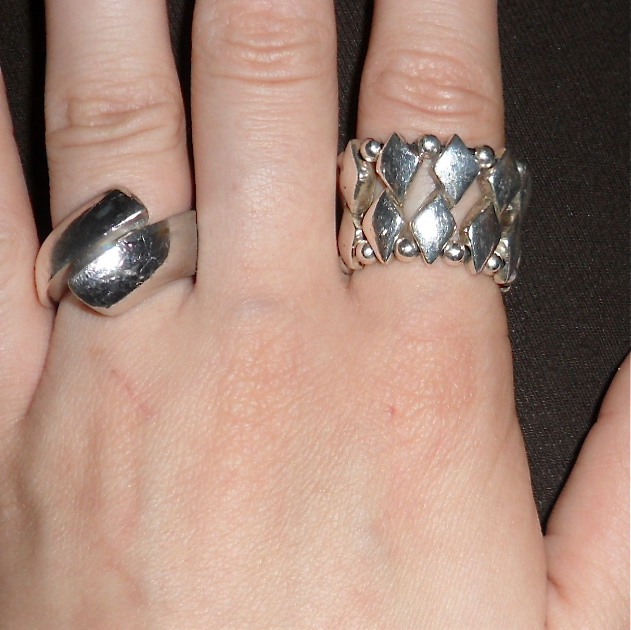 Ring finger: Sterling Silver, similar | Pointer: Philippe Audibert
I think it's important to get quality costume rings so they last. I also always coat, at the least, the band part of the ring with clear nail polish. This prevents the ring from turning your finger colors, and the ring itself from turning colors. The YSL ring is probably the only one I don't wear very often, as it is very large and bulky. TIP: If you do decide to purchase the YSL ring online, size up one. Because it's a thick band it fits small (this is true for almost ANY ring with a large band).
Fine:
Ring finger: Vintage, from my Grandmother | Pointer: John Hardy, similar (John Hardy rings are handmade, so I believe the exact one I have is out of stock)
All: David Yurman, other size
The first picture is my own, but the second one, on the right, was taken from an Instagram I manage, @BlingBrigade. If you LOVE jewelry or just like to know the trends, you should follow!
Ring finger: David Yurman | Pointer: John Hardy
You can never have too many rings! I do regularly wear all of these rings. The smaller Onyx David Yurman ring, and the Gold John Hardy ring are perfect examples that a ring doesn't have to be very large to make a statement. Personally, with David Yurman, I wish I would have purchased the Blue Topaz ring one size larger. So, I'll probably purchasing a larger one soon. If you do decide to buy one, go big! I promise you'll wish you would have.
To get comfortable wearing rings, I would start with inexpensive fashion rings. Purchase something inexpensive, but out of your comfort zone. I love wearing large rings on my pointer finger and then a more delicate ring on my ring finger of the same hand. I try not to wear more than 3 rings at a time. Again, oversized does not necessarily mean statement, I've seen some ugly large rings! When you shop for a ring pay attention to detail, a small ring with a lot of detail can make a big statement!
As always, you can email me at SimplybySimone@gmail.com for anything! Thank you for reading!
XO,
Simone