Vest: H&M | Dress: Zara, similar HERE | Shoes: Ivanka Trump (on SALE for $55!!) | Bag: Ferragamo
As a fashion blogger/ influencer/ woman that likes to look good, shopping at fast fashion retailers is not an easy feat. Today I'll be sharing some of my best tips to grab stand out items at affordable prices! Whether you go into these stores or shop online, both tend to be increasingly overwhelming. With such a wide range of product, sometimes it's hard to tell the difference between two printed blouses. The important part is that there is a difference. To win the gold at the fast fashion Olympics, here are some important rules to play by:
1. The seams should always match. When you're buying any item of clothing with a print, the print should be consistent across the vast part of the item. Here's an example of a print not matching up: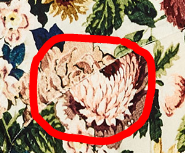 2. Detailing should be done right. I always look for buttons covered in fabric, this is my favorite stand out on a affordable item. It always makes a shirt or dress look more expensive. Also, embroidery is great, but if there's a pull, put it back.
3. No strings attached. Easy. If there's strings coming off the item in the store, it's not going to stop after you purchase and wear the item. This also means that the hem will probably come undone or a button's going to fall off.
4. Know quality. Window shopping at high end department stores will get you familiar with what quality looks and feels like. This will give you a good benchmark when you're shopping for those steals! It's also a perfect opportunity to check out those sale racks! Or if you're me, to make some bad, good, decisions in the shoe department..
5. If it doesn't fit, send it back. I don't care how cute it is. If it doesn't fit you right or it's uncomfortable, it's never going to look nice on.
6. Be mission oriented. Always go into a store with what you want in mind. This way you can stay focused and take the time to examine the items you pick out.
PS. I hope you all can understand the fun I'm having with the title "fast fashion Olympics", as I know, by NO MEANS is shopping the Olympics! LOL What is your favorite sport to watch? Mine is definitely gymnastics (I did floor tumbling most of my life) and if I could be anyone on team USA it would be Simone Biles this year! I mean we have the same first name, so I'm halfway there! Haha yea right..
shop my look: