It's that time again! It's amazing to me how out of my mind I am. I swear every Monday it feels like Friday will NEVER come, and now all of a sudden here I am, again, and I just can't believe it's Friday, again. So that's enough of me losing it. I love this outfit. I've been dying to find a more fitted maxi skirt but when I saw this print, I didn't even care that the skirt was flowy. Take a look..
Top: Nasty Gal, similar, similar | Skirt: ASOS | Shoes: BCBG, similar | Necklace: Charming Charlies, similar
I tried this skirt on with a more fitted top and it didn't have the same effect. I love all the movement in this outfit. The lace tank made this look seem a little boho, which I love and I can't always pull off. I had to make it a more "me" style by pairing the look with a big designer bag. There's just something about them..
I thought the neutral color of this bag worked perfectly with the coral and pink tones. I love that the skirt had colors from purple and blue to orange and pink. These colors and the print are really amazing together. Anytime you can find a fun skirt like this, get it. It's always going to be comfortable to wear and easy to style.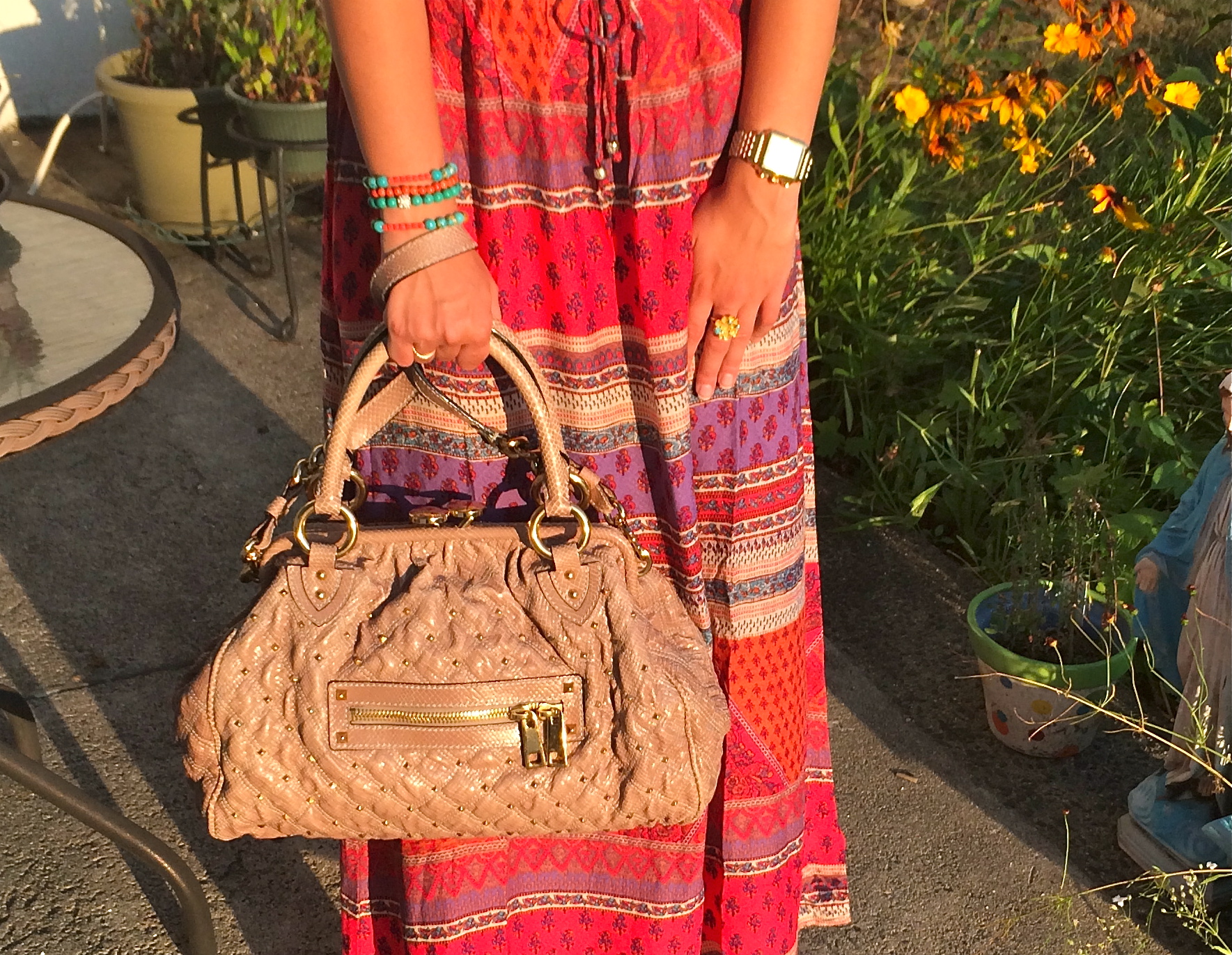 Bag: Marc Jacobs "Stam" (discontinued) | Bracelets: SimoneJ jewelry | Watch: Michele
I'm so proud of myself that I wore my coral BCBG wedges with this skirt. Usually when I go for  print with a lot of color, everything else I wear ends up a neutral color. For me, the necklace and the shoes were a little bit out there, but I'm so pleased on how they pulled this look together.
Always try new things. I'm constantly trying on clothes just to see if I like how they look together. If you don't like an outfit you can just change, it's not like you're getting a tattoo. Your personal style is whatever you make of it, try new things, see what you like and if you put on a outfit & hate it, you don't have to wear it.
I hope everyone has fun getting their outfits together this weekend! Theres so few Summer days left, so take out all the things you haven't worn yet! Take the tags off!! We all know were guilty of it. I hope you enjoyed reading!!
XO,
Simone