Happy New Year's Eve everyone!! Something I'll totally be brining into 2015 is metallics, it's definitely become the more acceptable, less tacky sequins (at least by me that is). I saw this blazer in August and I knew I had to have it. Being somewhat of a bargain hunter, I couldn't get my self to pay regular price ($198). So a few months later I was able to get it on sale (you'll die at the price now, you can find it under the Shop My Look at the bottom). Anyway, my point being, I love this blazer and I 100% manifested it into my life. Lets take a look..
Blazer: Aqua | Top: Theory | Denim: Seven | Booties: Pour La Victoire, similar | Bag: Chanel
I love this look for New Year's Eve because it's both situationally appropriate and comfortable. I know I say that I'm always cold, but I am. And theres NOTHING I hate more than freezing in a dress. Sorry not sorry. So this blazer with all black was an easy go-to for me. The metallic shade is so perfect, It can easily pick up gold or silver tones depending on what you wear it with. The tux style makes it masculine, which I also love.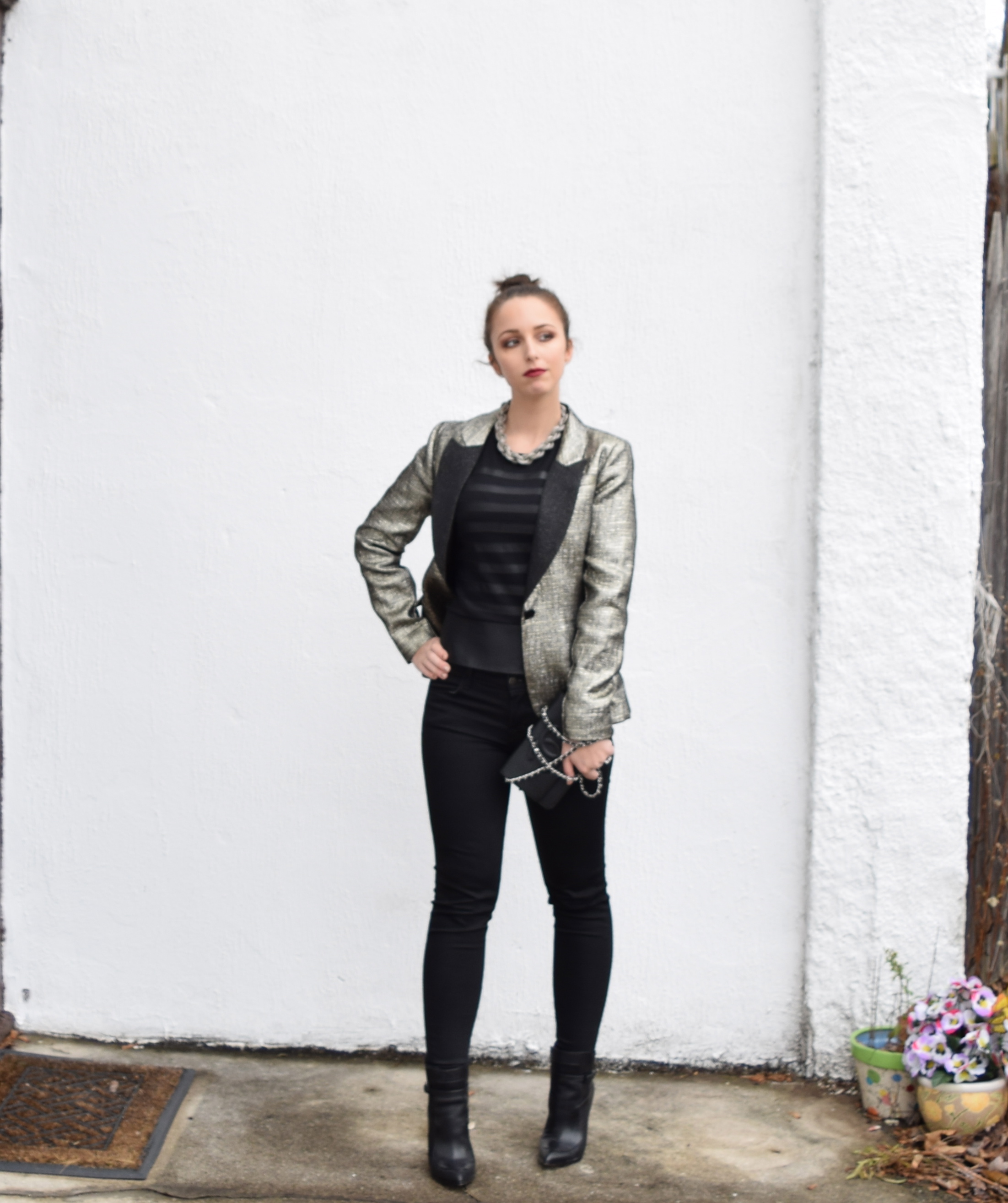 Lipstick: Mac, Sin | Necklace: Chaming Charlie's, similar 
I wore a chunky necklace and deep red lipstick to keep this look masculine and mysterious. I sported my signature bun, I secretly hate having my hair touch my face (confession of a random pet peeve). What are you planning on wearing for NYE? I'd love to hear your outfit ideas below!
SHOP MY LOOK:
Thanks for reading!
XO,
Simone