I have no idea how any one deals with the anxiety and stress that comes with wedding planning. After coming across Lover.ly on Instagram, I thought it would be a great idea to take the challenge and style a wedding per a specific destination, by utilizing their app. Once I went online and looked at their website, I was in heaven. I mean it can't get any easier than this. Let's face it, I'm mostly likely going to be the girl who orders her wedding dress online, being that I'm one of Amazon's best customers, so this websites entirety was right up my alley. Let's get this straight from right now, I'm not the girl who has dreamed of her wedding day. I do know that in reality one day I will get married, and in which case it HAS to be on a beach. Which beach? Bora Bora. We're going to Tahiti!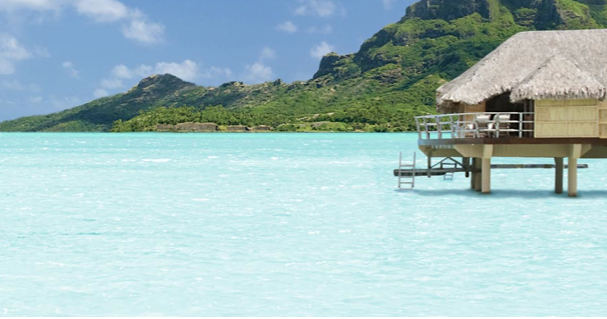 Personally, I think the easiest way to have a wedding is a destination wedding on the beach and I don't think there's a better place than Bora Bora. As for a dress, I would go with something warm and romanic, yet light weight without a whole lot of material. Lover.ly makes it so easy to browse through dresses. I love that they pull together dress styles from Oscar de la Renta to David's bridal. Here's what I choose:
Estella Dress, Temperley London via Lover.ly
I love the lace back and the drop shoulder. I also love that this dress is feminine and elegant without using a ton of material to achieve the look. If I were having a wedding in a warm climate, this is the exact dress I would picture myself wearing.
Untamed Petals Head Piece, Dawson via Lover.ly
I also LOVE the headpiece with the hair in a low bun. I'm such a bun queen, I can't imagine not wearing my hair up on my wedding. I would pair this with diamond stud earring and engagement ring. Since the dress has a relatively high neck and long sleeves, the beauty of it is, is that you don't need a lot of jewelry!
If I didn't actually walk on the beach to get married, and I had to wear shoes, (Do people go barefoot when they get married on the beach? I'm serious.) these would be it:
Swan, Manolo Blahnik via lover.ly
I know this post is something totally different than you're used to seeing me do, but I had so much fun doing this! I hope you enjoyed reading! Lover.ly truly makes it easy to go online at anytime and get some wedding inspiration and shopping done at the same time.
XO,
Simone