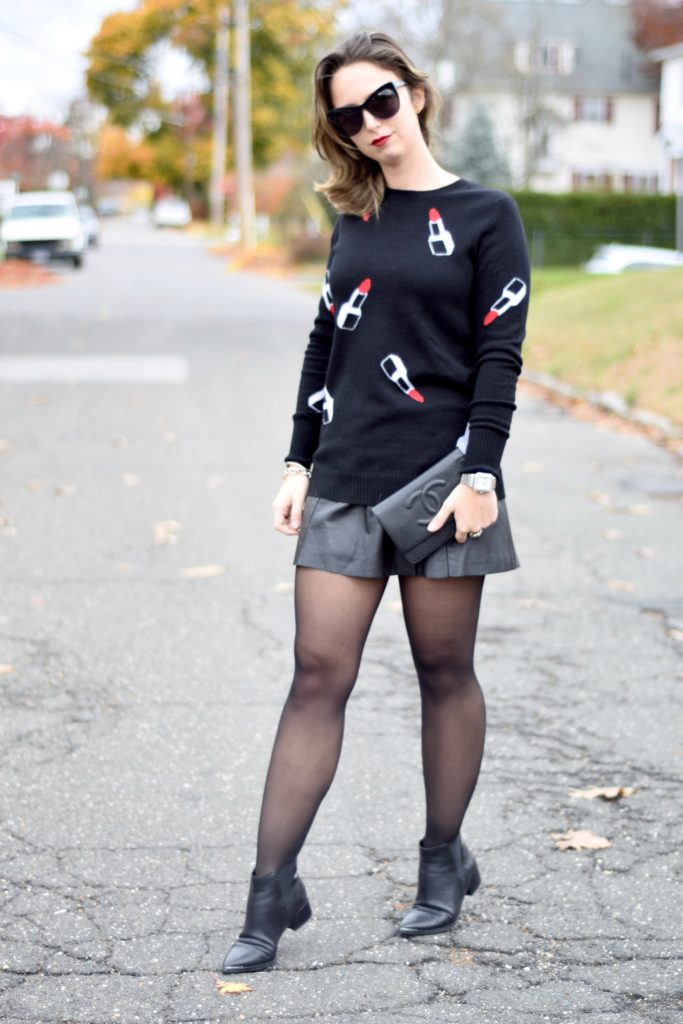 Sweater: Aqua | Skirt: All Saints, similar | Stockings: Hue | Shoes: Marc Fisher | Bag: Chanel
The least of your troubles should be your holiday party style. Be it gifts (my picks under $60 here) or outfits, I want to make your life easy! So today, I'll be breaking down outfits for holiday parties.
This outfit is great because almost anyone can wear it to work. Throw a blazer over it in corporate zone, voilà! Skirt too short? Wear leggings under it for a layered look (loving these right now). So take your favorite leather skirt, stockings and booties and pair them with a fun sweater!
Why is this a perfect outfit for someone who commutes to work? Well, for starters you don't have to bring anything with you! ie. that heavy pair of high heels or a total change of clothes. Since I've started commenting into New York City for work (hashtag westchester girl problems) I find myself being extremely selective with what I throw into my work bag. This even comes down to my food tuberware (excessive I know). But not having to hunch over to carry a 10lb bag is important for my sanity and back..
So, grabbing a few fun sweaters will make creating outfits for holiday parties easy. Pairing a skirt with short booties makes this look office appropriate and easy to walk in. You should also think about wearing textured tights! The most important part is that you start thinking out your outfits now. Use your time at these events to enjoy coworkers, friends and family, not worring about or hating your outfit.